Home
MIDDLESEX POLICE DEPARTMENT
Matthew P. Geist, Chief of Police
Non-Emergency: 732-356-1900
Additional CRASE Training
We are pleased to offer another opportunity to attend the Civilian Response to Active Shooter Events (CRASE) course to the community that we serve.
Shopping malls, concert halls, bike paths, night clubs, places of work and places of worship – innocent people senselessly attacked while going about their daily lives. The world can be a very dangerous place if we are not educated and if we are not prepared. By providing important information and valuable guidance, we hope to equip our citizens with the tools they need to protect themselves and to help them protect their families.
The CRASE course, designed and built on the Avoid, Deny, Defend strategy developed by ALERRT in 2004, provides strategies, guidance and a proven plan for surviving an active shooter event. Topics include the history and prevalence of active shooter events, the role of professional guardians, civilian response options, medical issues, and drills.
The training will held on Thursday, June 7, 2018 from 6:00 pm to 8:30 pm in the Community Room of the Middlesex Borough Library, located at 1300 Mountain Avenue, Middlesex, NJ 08846. The training will consist of a PowerPoint presentation followed by a question and answer session.

The training is FREE, seating is limited to the first 40 registrants. Attendees must be 18 years of age or older. Registrants who are not among the first 40 will be invited to attend future presentations. To reserve a seat, complete the form below and email the online form or print and return the form to Middlesex Police Headquarters no later than June 1, 2018.

Register now and receive this training from Middlesex Police Officers, dedicated to the safety of our citizens and of our community. Become a "hard target".
Registration Form
https://static.wpb.tam.us.siteprotect.com/var/m_6/6a/6a8/39635/728100-CRASE_Registration_Form.pdf
The Middlesex Borough Police Department will be hosting a Fishing Derby on Saturday, June 9th, 2018 from 9am-12 pm at Victor Crowell Park, rain or shine. Registration will begin at 8:30am. Participants can pre-register. Use the registration form below and return it by mail (Middlesex Borough Police, Attn: Community Policing, 1101 Mountain Avenue, Middlesex, NJ, 08846), email (
cp@middlesexpd.com
) or register in person at the Middlesex Borough Police Department. The event is open to residents of the Borough and surrounding towns. Children grades K-8th may compete in the derby.
---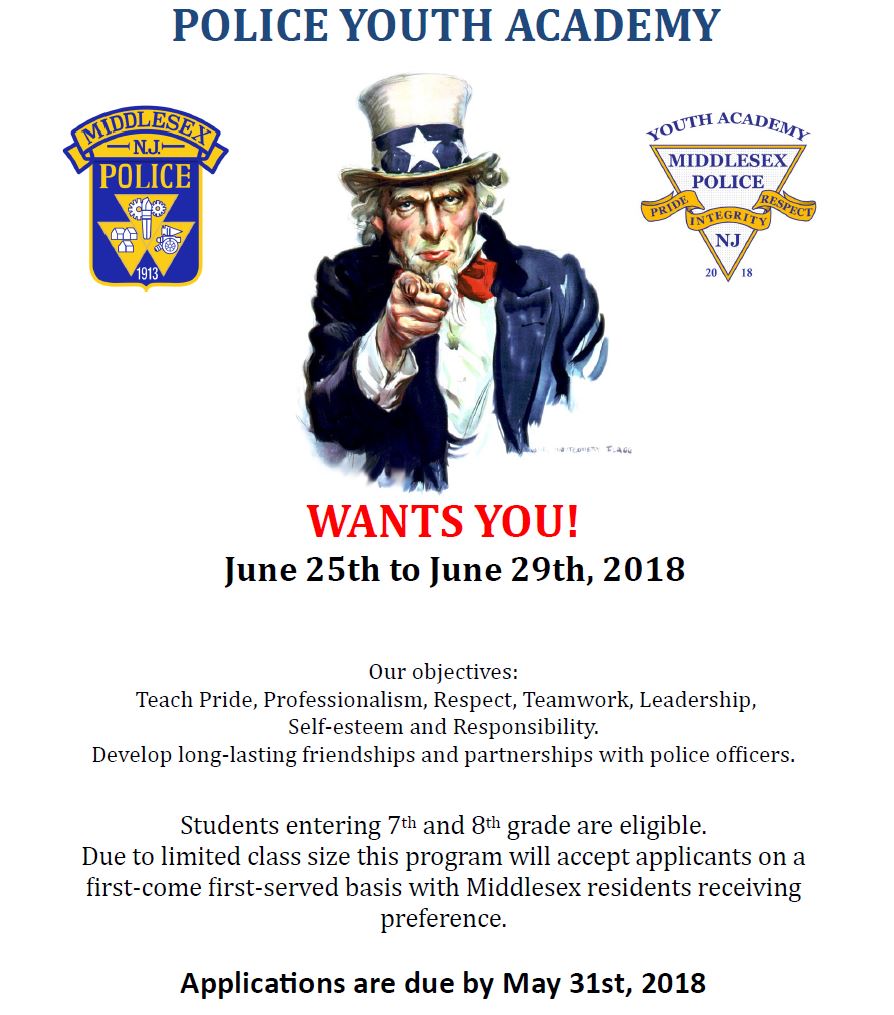 The Middlesex Borough Police Department's Youth Academy will be held from June 25th-29th, 2018.
The Youth Academy is open to Middlesex Borough Residents who will be entering 7th or 8th grade in September of 2018.
The Youth Academy will accept applications on a first-come, first-served basis.
Application and Emergency Treatment Release Forms must be submitted between May 1st, 2018 and May 31st, 2018.
Recruits must be on location and ready to begin promptly at 8:30am.
The day concludes at 1:00pm.
The cost to participate is $50.00 per recruit and must be paid upon acceptance. Make checks payable to "The Borough of Middlesex."
An Academy t-shirt, pair of shorts, baseball cap and notebook will be provided.
Uniforms will be distributed the week of June 18th and MUST BE WORN EACH DAY of the Youth Academy.
Please follow us on Facebook, Twitter and Instagram for the most up-to-date information.
Also register for our Nixle Notifications by sending "MIDDLESEXPD" to 888777 to begin receiving SMS/text-only messages.